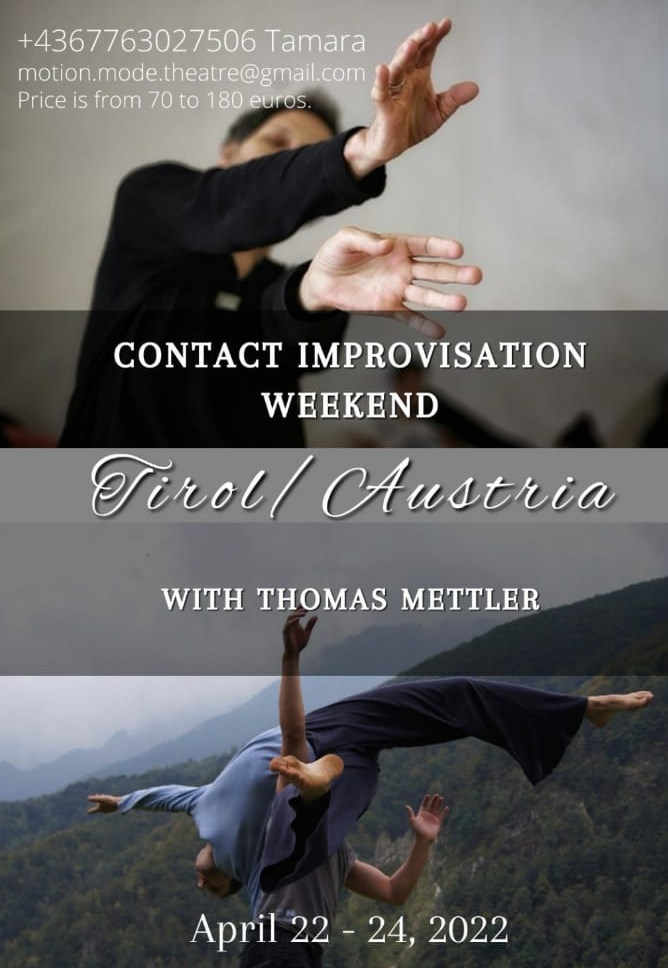 Description:
During the dance weekend with Thomas Mettler, we are going to focus on tools that help our hands to be active and clear in touching, supporting, and lifting.
"And what do the hands actually do?" – Use of the hands in dance contact improvisation.
"I think our HANDS are too often forgotten in Dance- & Contact-Improvisation." – Thomas Mettler
Thomas Mettler (Switzerland).
Work in THEATER & DANCE with a simultaneously always ongoing Search & Research for 40 years. His teaching activity for 35 years, 4 of them full-time at professional acting or dance schools in London and Paris, brought him across Europe to Colombia, the USA, and India. For joint projects, he meets artists from different cultural backgrounds all over the world or invites them to create their performances in Switzerland. Thus he continuously tries to realize his dream of a world without borders.
"
CI is for me – at this moment of my life and dance – more and more, LESS AND LESS – or in other words, more with less; listen instead of make, make, make…
"
http://www.keep-searching.ch/about.html
Friday, April 22:
15:00 – 17:00 Opening Circle
17:00 – 19:30 Free time
19:30 – 23:00 Jam
Saturday, April 23:
10:00 – 12:00 Workshop 1
12:00 – 15:00 Free time
15:00 – 17:00 Workshop 2
17:00 – 19:30 Free time
19:30 – 23:00 Jam
Sunday, April 24:
10:00 – 12:00 Workshop 3
12:00 – 15:00 Free time
15:00 – 17:00 Farewell Jam / circle
The venue has an option to stay there during the night. It's 6 double bedrooms and 3 dormitory rooms for 4-6 beds.
There is a fully equipped kitchen at the facility and some restaurants in the village.
Cost:
1. Accommodation (Fri-Sun) in a dormitory room and full participation: 160 euros.
2. Accommodation in double-bedroom and full participation: 180 euros.
3. Full participation without accommodation: 120 euros.
4. Accommodation in dormitory room for helpers (cleaning the space, and some help with the organization): 110 euros.
*Helpers without accommodation: 70 euros.
5. One-day participation without accommodation: 80 euros.
*With accommodation 100 euros.
If you have any questions, please do not hesitate to reach out to me via Whatsapp or give me a call:
+4367763027506
e-mail: motion.mode.theatre@gmail.com
I hug you and wish you a peaceful sky above your head ❤